Date/Time
Date(s) - 04/27/2018
8:00 am - 5:30 pm
Location
Avalon Golf & Country Club
Categories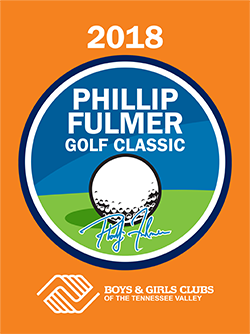 The Phillip Fulmer Golf Classic has been impacting young lives for 19 years! On July 1, 1979, the first D.D. Lewis Celebrity Golf Tournament was held at Whittle Springs Golf Course. D.D. is a Club alumnus who played football at Fulton High School. He went on to play at college ball at Mississippi State and professionally with the Dallas Cowboys. The tournament was made possible through the efforts of its founders, Tournament Director Emmett P. "Buck" Vaughn Jr., Mr. James S. Bush, Mr. Larry Cox, and Mr. Buddy Burchell. The tournament changed its name to the Phillip Fulmer Golf Classic in 2001, and since then the tournament has raised over $1 million for Boys & Girls Clubs of the Tennessee Valley.
NEW IN 2018.
For the 2018 tournament, Knox, Blount, Loudon, and Anderson counties are joining forces to make the 2018 Phillip Fulmer Golf Classic the best year yet!
For more information regarding the Phillip Fulmer Golf Classic, please call Rachel at (865) 232-1124 or email rdurham@bgctnv.org.
Register online or become a sponsor by filling out the form below.
Sponsorship Levels
$25,000 Presenting Sponsor
Presenting Sponsor placement on all mixed media advertising
Sponsorship Exclusivity
Company Logo on BGCTNV website and Fulmer Classic web page
Naming opportunity at BCGTNV for 1 year
Logo scroll on electronic scoring
Invitation for Sponsor reception/dinner Thursday night
Special edition jersey autographed by Coach
Number of teams negotiable, includes breakfast and lunch for AM team, lunch and 19th hole for PM team, cart, greens fee, award ceremony, golfers goody bags
Team photo with Coach Fulmer
Recognition in official golf program
Opportunity to put company literature in goody bags
$15,000 Cart Sponsor
Placement on all mixed media advertising
Sponsorship industry exclusivity
Company logo on BGCTNV website and Fulmer Classic web page
Invitation for sponsor reception/dinner Thursday night
Autographed 20th anniversary football
1 team (4 players). Includes breakfast and lunch for AM team or lunch and 19th hole for PM team. Includes cart, green fee, award ceremony, golfers goody bags
Team photo with Coach Fulmer
Recognition in official golf program
Company logo and name on cart signs
$10,000 Game Day Sponsor
Placement on all mixed media advertising
Sponsorship industry exclusivity
Company logo on BGCTNV website and Fulmer Classic web page
Logo scroll on electronic scoring
Invitation for sponsor reception/dinner Thursday night
Autographed 20th anniversary football
1AM team and 1PM team (8 players). Breakfast and lunch for AM team, Lunch and 19th Hole for PM team, cart, greens fee, award ceremony, golfers goody bags
Team photo with Coach Fulmer
Recognition in official golf program
Opportunity to put company literature in goody bags
$5,000 Touchdown Sponsor
Placement on all mixed media advertising
Invitation for sponsor reception/dinner Thursday night
1998 season video autographed by Coach
1 team (total 4 players). Includes breakfast and lunch for AM team or lunch and 19th hole for PM team. Includes cart, green fee, award ceremony, golfers goody bags
Team photo with Coach Fulmer
Recognition in official golf program
$2,500 Field Goal Sponsor
Placement on all mixed media advertising
1 team (total 4 players). Includes breakfast and lunch for AM team or lunch and 19th hole for PM team. Includes cart, green fee, award ceremony, golfers goody bags
Team photo with Coach Fulmer
Recognition in official golf program
$1,200 – Team Play
1 team (total 4 players). Includes breakfast and lunch for AM team or lunch and 19th hole for PM team
Includes cart, green fee, award ceremony, golfers goody bags
Team photo with Coach Fulmer
$1,000 Hole Sponsor
Recognition in official golf program
4×3' signage on one hole at tee & pin flag with company logo, signed by Coach
Picture in front of hole sign with Coach and special guests
$500 Driving Range & Putting Green sponsor
Signage at Driving Range or Putting Green
Recognition in official golf program
$250 Tee Sponsor
Recognition in official golf program